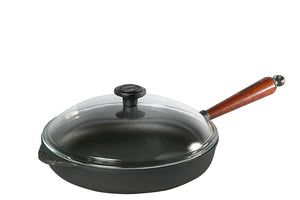 Skeppshult 28 cm Deep Pan with Beechwood Handle and Glass Lid
Regular price $271.00 Sale
The Skeppshult 28 cm Deep Pan is extra deep which is great for creations that have a lot of sauce and need a little more containment. The glass lid has a cast iron handle at the top to finish the look. This pan and lid combo only comes in the Traditional Beechwood handle, but I can swap out a Walnut handle in order to match other Walnut handled pans from Skeppshult.

Pre-conditioned, so ready to use after a quick rinse, with a heat isolating beech wood handle, and a cast iron eyelet for hanging.

All Skeppshult.ca cast iron cookware is of the highest quality, come pre-conditioned, and have a 25 year warranty.
Nonstick coating
Works on all cooking surfaces and open fires
Distributes & stores heat evenly
Cast iron helper handle for 2 handed handling
Concave bottom eliminates rocking when hot
25 year guarantee